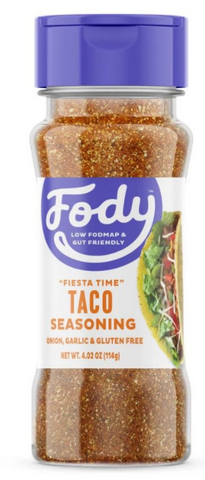 I love Tex-Mex, and Tex-Mex is a difficult food to eat on the Low FODMAP diet. Many spice mixes used in cooking Mexican food contains onions, garlic, or both.
Whenever I got out to eat, I have to ask the waiter if they use onions or garlic when marinating meats. The answer is usually less.
If you want to eat Low FODMAP tacos or fajitas, you might have to cook them yourself. But even then…what do you use to at taco seasoning to the meat?
Fody Foods offers a pre-made taco seasoning that contains no onions or garlic. It's certified Low FODMAP by Monash University.
Most importantly, it tastes good! I use this Low FODMAP taco seasoning primarily when seasoning ground beef for making tacos and nachos. Each package has enough to make about 10 taco meals of about 1-1.5 pounds each. You can stretch if further if you like to lightly season your tacos. (Don't go too heavy — your meal will taste too salty.)
While Low FODMAPpers can't just pick up a taco seasoning packet at the grocery store, Fody's Low FODMAP taco seasoning is a great substitute.